FrankenRanger is a 1997 Ranger Splash 4x2 extended cab, originally purchased new in early December, 1996 specifically for the transplant of a supercharged 1995 Ford Mustang Cobra 5.0L engine and transmission. Originally equipped with the ubiquitous 4.0L V-6 & 5-speed, this truck is now powered by a fire-breathing Kenne-Bell blown 1995 5.0L Cobra engine backed by a bulletproof Tremec 3550 HD transmission. Making 8 pounds of boost, and breathing through a ported GT-40 lower intake, this truck has the potential to run 12's in the quarter at nearly 108 mph on stock tires, without sacrificing its utility or driveability. It maintains fully functional A/C, power steering, and passes all emissions tests currently required in Ohio.
SEE FRANKENRANGER'S SPECIFICATIONS HERE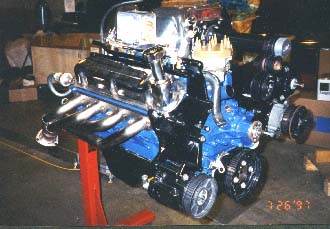 The pages below detail some of the hardships we endured and the solutions we found to some common problems that most V8 Ranger builders will face. You also might want to check out our FAQ page to get some additional information. Below are some small selections from our EFI V8 Ranger Installation Manual, which we hope you will find helpful.
| | |
| --- | --- |
| ENGINE REMOVAL | Tips on getting the original Ranger motor out and prepping the engine compartment for a V8. |
| ENGINE PREPARATION | Getting your new V8 ready for installation into your Ranger. |
| TRANSMISSION & CLUTCH | What transmission can I use and what do I need to make it work? |
| INTERIOR | Where will the shifter be? What about extra gauges? |
| WIRING | Um, how do I make it run? |
| OIL AND COOLING SYSTEMS | Upgrades you'll need to make to handle the V8's increased demands. |
| EXHAUST SYSTEM | Yep, it'll have to be a custom job. |
---
This page accessed
times

Page designed by Harwood Performance Engineering
Cleveland, OH
Last Updated: February 23, 2004

All images and diagrams, unless otherwise noted, are
copyright (c) Harwood Performance Engineering, 1999, 2000

HARWOOD PERFORMANCE ENGINEERING IS NOT ASSOCIATED WITH
HARWOOD INDUSTRIES (manufacturer of fiberglass hoods, fuel cells, etc.)

"V8" badges provided by Fidget